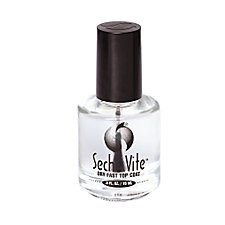 Recently I purchased my first bottle of
Seche Vite.
The nail world has been raving about this product for years and after being disappointed with
OPI RapiDry
for my mani's I was ready to give it a go (I find
RapiDry
to work great for a pedi). After reading up on the application technique I applied it over
OPI Steady as She Rose
.
The application of
Seche Vite
was smooth and it glided on once I let a drop form on the tip of the brush. After it was dry I couldn't stop admiring the thickness and crystal clear sheen. When comparing this to
OPI RapiDry
initially I was impressed. On a side note
OPI Natural Nail Base Coat
was used in conjunction with the top coats.
Two days later the
Seche Vite
seemed to develop tiny cracks similar to what the shatter looks like only not as wide. Soon after this discovery my first chip appeared that day, then the second, and soon the third. I was annoyed. Since it was my first mani with this product I'm not ready to throw in the towel just yet but I really had hoped this would be the answer to my needs!
Then I found a third contender (that is probably overlooked by most) that has the best staying power and protection that I have come across, even over
Seche Vite
. That top coat is
Nicole by OPI Top Coat Plus
.
I came across NOPI on a Target trip and figured it was cheap enough to try. This product does not have as crisp of a clear compared to
Seche Vite
nor is it as thick but the fact that my mani lasted 8 days without a single chip (I actually got tired of the color combo I was wearing!) sold me. As I prepare to give
Seche Vite
a second chance I will keep you posted but for now
NOPI Top Coat Plus
is my choice for mega staying power!
Disclosure: This lacquer was purchased by The Lacquer Factor.